House of Ruth serves people in Louisville living with HIV (and their families) who are homeless, at risk of losing their homes, or need financial help. Our mission is supported through a continuum of services: mental health counseling, assistance for basic needs, and perhaps most importantly, housing support.
It may not be obvious why an HIV advocacy organization focuses on housing, but it is mission-critical. Our program operates on the Housing First model, an approach to homeless assistance advocating that a stable place to live is the first step in breaking the cycle of homelessness. 
The Cycle of Homelessness
There are over half a million people in the United States without homes. Homelessness is most often prompted by a sudden loss of income. About 40% of Americans are just one missed paycheck away from poverty — a percentage that grows significantly for households of color.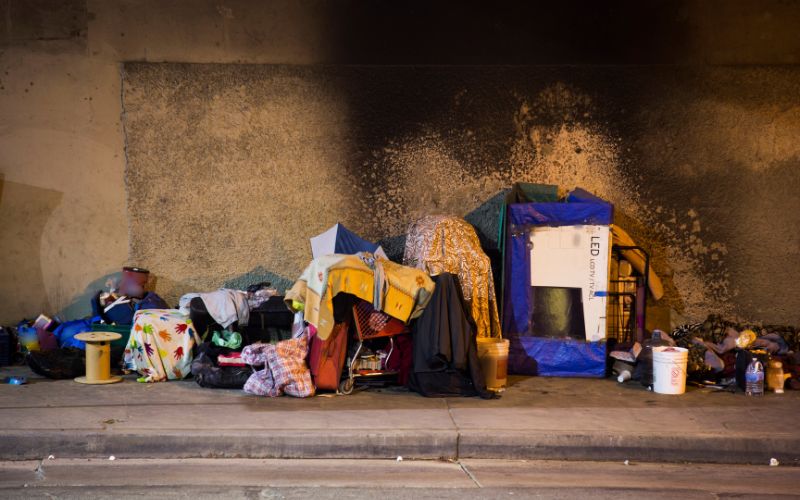 Homelessness and Employment 
Once homeless, breaking the cycle is an immense struggle. One of the greatest challenges faced by people without homes is finding employment: Imagine securing a job without a permanent address to put on your application, reliable transportation, or even a place to shower. It's estimated that about a quarter of the people in the U.S. who are homeless are employed, but these are typically low-wage jobs that barely cover the cost of necessities, let alone the high (and ever-rising) cost of housing.
Homelessness, Mental Illness, and Substance Use
Additionally, many people struggling with homelessness also struggle with severe mental illness and substance use disorders. There are many reasons why homelessness and substances are connected. Recovering from addiction is a challenge for everyone, but even more so if the patient is unable to reliably access support programs for recovery. When people who use substances are viewed as undeserving of aid, and abstinence becomes a prerequisite of assistance, you can begin to see how difficult it can be to break free from this cycle.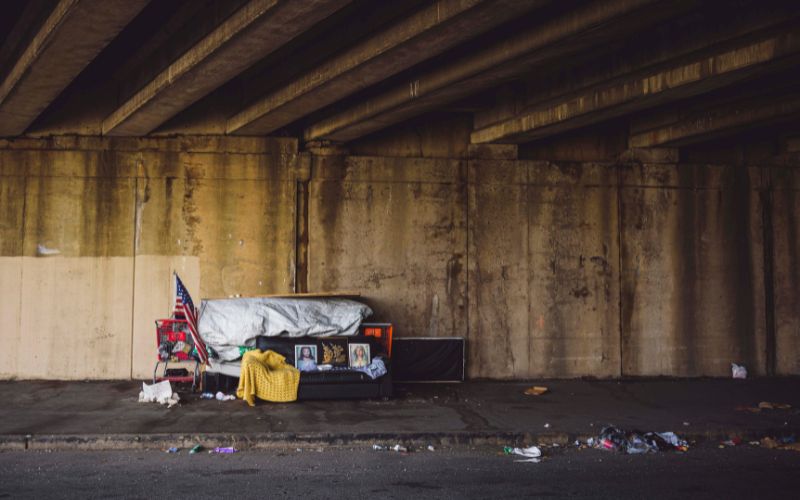 Homelessness and HIV
Homelessness and HIV/AIDS are also closely linked. The high cost of medical care means that people living with HIV/AIDS are at a higher risk of homelessness than the general population: One 2021 study estimates that, in the United States, the average lifetime cost of HIV treatment could run between $420,285 (2019 US$) and $1,079,999. People with HIV/AIDS are also more likely than the general population to lose employment, either due to discrimination or because of frequent health-related work absences.
People without homes have higher rates of disabilities and debilitating diseases than the general population, including increased HIV infections. This can be due to intravenous drug use (needle sharing) and increased sexual risk-taking behavior, either because of untreated mental illnesses or unsafe and unstable living conditions. Homelessness is also linked to worse HIV/AIDS outcomes. Inconsistent hygiene, exposure, and the crowded environment of a shelter can all contribute to an increase in opportunistic infections, while inconsistent treatment for HIV/AIDS leads to more severe illness.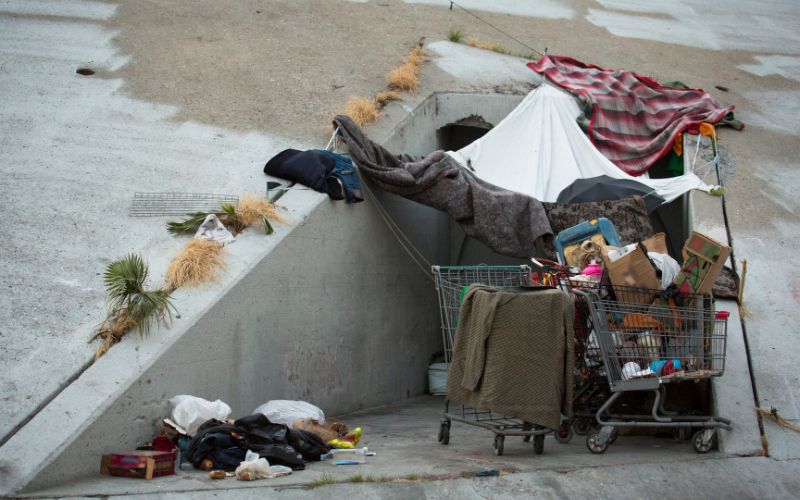 The Housing First Model at House of Ruth
Put yourself in the shoes of our clients: homeless and living with HIV/AIDS. What would your next step be if you didn't know where to turn? House of Ruth works to first secure housing for our clients and their families. The services that we provide interrupt the cycle of homelessness by giving people a safe place to begin to heal and rebuild their lives. 
House of Ruth manages three housing programs. Our Emergency Shelter, consisting of three beds, provides homeless people living with HIV/AIDS a safe and substance-free environment for up to 90 days. Our Short-Term Housing Program consists of 10 beds in a safe, substance-free community living facility for up to two years. Clients in our Short-Term Housing Program also get intensive case management and group and individual counseling. The goal of this program is for these individuals to become self-supporting.
Our Long-Term Housing Program offers safe and affordable housing to individuals and their families affected by HIV/AIDS. House of Ruth owns and maintains 17 single-family properties and has working relationships with community property managers throughout Louisville. Our Long-Term clients also get individualized case management, financial assistance, crisis intervention, behavioral health services, referrals, and more.
Housing First Works
The Housing First model recognizes that a safe place to live is a prerequisite for stability, not the other way around. That's why organizations that operate on the Housing First model prioritize safe and stable housing for people experiencing homelessness. Each year, House of Ruth serves about 550 individuals. On average, 99% of clients who remain in our short-term housing for at least nine months stay housed and, when applicable, are able to successfully manage their addiction. About 88% of our short-term housing residents graduate from the program to more stable housing. 
Housing First works. To explore some of the studies supporting this model, visit the National Alliance to End Homelessness.
Help our clients find home
For our clients, home is the first step toward managing their HIV and building a stable, secure life. You can help people in our community who are living with HIV/AIDS by donating to House of Ruth today.