2022 will mark three decades of House of Ruth in Louisville, Kentucky. Over the years, House of Ruth's services have evolved and expanded, but we've always been there for a vulnerable population: people in Louisville struggling with HIV/AIDS.
An Unmet Social Need: the Beginnings of House of Ruth
The founders of House of Ruth were high school (and lifelong) friends: Sharan Benton; Anne Bindner*; Liz Bindner*; Elizabeth Blandford, SCN; Sharon Cook; Sharon Gray, SCN; Rebecca Miles, SCN; and Marilyn Spink, SCN*. These eight women met while attending Presentation Academy in downtown Louisville, and four went on to become Sisters of Charity of Nazareth.
Each year these friends reconnected to spend time together and reflect on ways to give back. During the holiday season of 1991, they discussed an unmet social need in Louisville at that time: women with HIV/AIDS who were passing away, and their children who were left without a family.
House of Ruth was incorporated in August of 1992, initially helping women with HIV/AIDS make funeral and childcare arrangements before their death. House of Ruth was named for the biblical Book of Ruth, symbolizing love and mercy for all people. In our first year, House of Ruth served eight families. (In 2020, House of Ruth served over 600 families.)
A Permanent Home in Shelby Park
Since 1890, St. Matthews United Church of Christ was an institution in the Shelby Park neighborhood of Louisville. By the mid-90s, urban flight had made it difficult for the aging congregation to maintain their building on East Saint Catherine Street. When they decided to close, the church hoped to donate the building to an organization that would continue serving the Shelby Park community.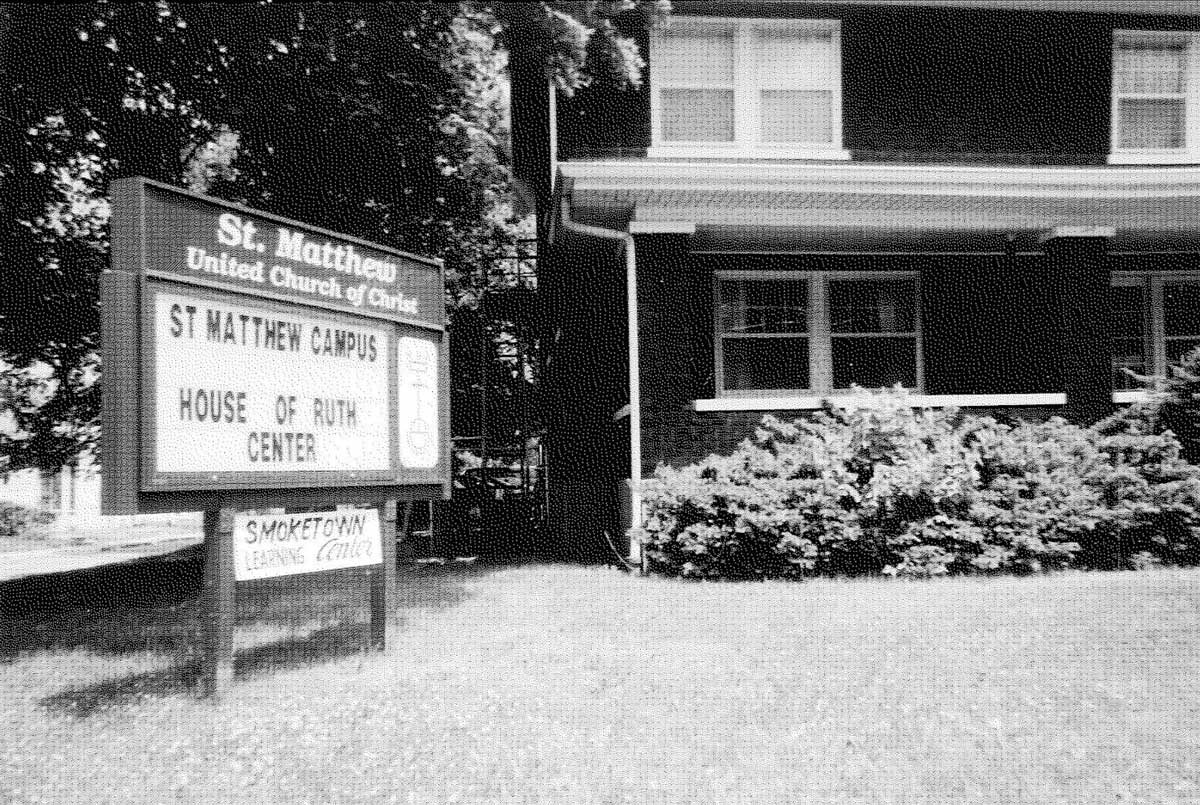 It was always important to the founders that House of Ruth have a physical location, but they had been bouncing between rental spaces for about six years. The tremendous gift of 607 E. St. Catherine has been home to House of Ruth since 2000.
Housing First: Interrupting the Cycle of HIV and Homelessness
HIV and homelessness have always been intertwined: The high cost of housing and medical care means that people living with HIV/AIDS are at a higher risk of homelessness than the general population. Additionally, people without homes have higher rates of HIV infections and worse health outcomes.
For years, House of Ruth had been helping to support women with HIV, but by the late 90s, the need to interrupt this cycle was increasingly evident. In 1999, House of Ruth decided to begin purchasing single-family properties.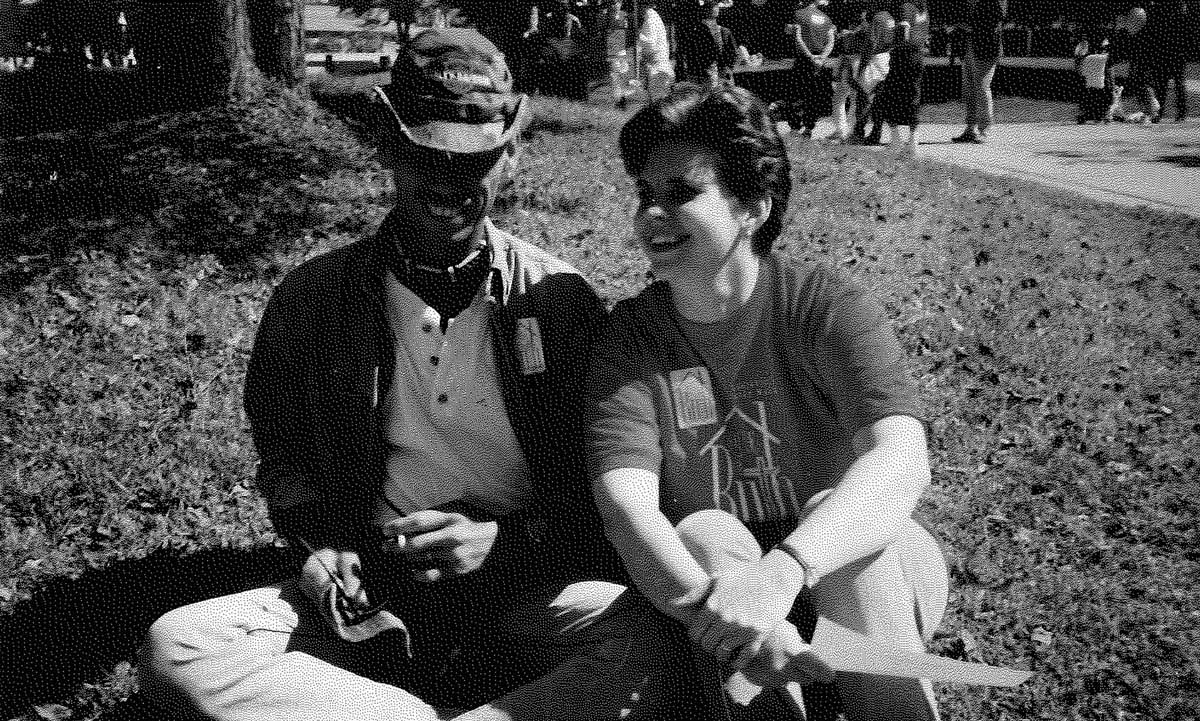 Over the next several years, we acquired over a dozen properties, and in 2018, we built a new construction duplex in Shelby Park. Now, we own 17 single-family properties and administer a subsidized rental contract for roughly 35 additional households.
Glade House
In 2001, House of Ruth stepped in to help another Louisville nonprofit, Community Health Trust . Since the mid-80s, Community Health Trust managed Glade House, a 5,500 square foot shelter in old Louisville was a place for young gay men with HIV to go to die. House of Ruth acquired the struggling Glade House, which is now the longest continuously run shelter in the U.S. exclusive to people with HIV or AIDS.
Glade House, which had only served men with HIV/AIDS, and House of Ruth, which had only served women with HIV/AIDS, now became a haven for anyone affected by the disease.  Glade House has three emergency shelter beds for this vulnerable group and ten beds comprising our short-term housing program.
Expanding and Evolving Services
In addition to shifting our focus to housing, House of Ruth has evolved and expanded services to meet our clients' needs. Some key services we offer are:
TARC tickets assistance to help clients to get to medical appointments.
Back-to-school support to ensure that children are prepared for each school year.
Rental and utility assistance to keep our clients housed in times of financial crisis. With the dramatic increase in housing and utility costs, we've seen a critical and ever-growing demand for this kind of financial support.
A food pantry was added several years ago when we recognized that many of our clients were simply hungry.
House of Ruth's on-staff social workers offer group counseling and mental health sessions. This helps assess, diagnose, and treat our clients struggling with mental illnesses.
Also in the last several years, we've hired housing navigators: full-time social workers who focus solely on finding affordable housing. It's incredibly difficult to find housing, particularly affordable one-bedroom units, and housing navigators are a rising trend in HIV services.
House of Ruth also staffs two irreplaceable peer support specialists. These individuals are vitally important to our clients' treatment, especially at Glade House.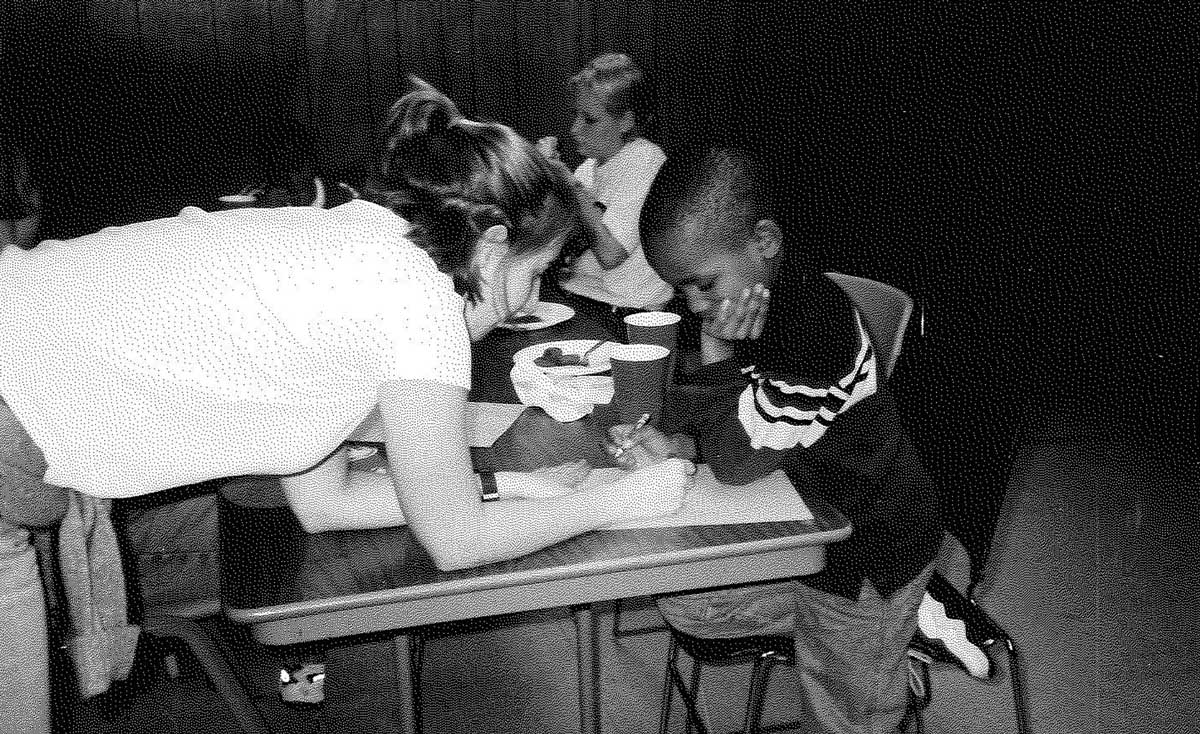 Ruth Today
House of Ruth has evolved significantly over the last three decades and will continue to adapt to meet the needs of our clients. Today, we're encountering new challenges:
An uptick in HIV cases
For a long time, the number of families we serve has held steady with few noticeable spikes or dips. However, 2021 has marked a four-year high in newly diagnosed clients, and HIV cases are increasing in Jefferson County.
We can theorize why: COVID-19 has led to extreme isolation. The cessation of in-person therapy, as well as AA and NA meetings, means that many people spent months without their usual support system. Hopelessness and depression, we know, can lead to self-medication via substance abuse and risk-taking behavior.
Additionally, we are recognizing that many younger people have not been properly educated about HIV. It's no longer the "media darling." Many young people don't understand what the disease is or how to avoid it, and others mistakenly believe it's no longer a problem.
A changing population
Lack of education contributes to the persistent stigma and discrimination surrounding HIV. This can make it less likely for at-risk people to get tested, and more difficult for HIV+ people to access medical care. HIV is no longer a death sentence, and though it disproportionately impacts disadvantaged BIPOC, HIV exists in every zip code in our city.
Thankfully, great progress has been made in the field of HIV treatment, and people with HIV are now able to live long lives! Because our clients are living longer, their needs are shifting. HIV is quite hard on the body and can age people prematurely — especially if they haven't received good medical treatment. Many find themselves aging rapidly without a strong support system.
Reminding our community why we matter
As we enter our 30th year, our greatest challenge is communicating the importance of our work. Many choose to ignore the struggles our clients face, but these struggles are complex and intertwined with others faced by our city and country. Homophobia, racial discrimination, the opioid crisis, healthcare costs, education  —  many societal issues contribute to (and are in turn impacted by) HIV and homelessness. House of Ruth is a safety net for those who have none.
Love and Mercy for All People
We're likely a long way from a vaccine (or cure) for the complex disease of HIV. We're also a long way from a fix for these societal challenges. But until there is a cure for HIV/AIDS, there is care. And as long as House of Ruth's services are needed, we'll be there to help. Once a place where sick people came to die, now House of Ruth is a place where Louisvillians living with HIV/AIDS come to live.
Please consider making a donation to House of Ruth: $30 for 30 years, or any amount.
*deceased