(Featured image: A block on The AIDS Memorial Quilt featuring Teresa's husband and daughter)
2022 marks three decades of House of Ruth and 30 years of serving people in our community affected by HIV/AIDS. As we reflect on our history, we're remembering and recognizing some of the people who made such a difference to our organization, our work, and the fight against HIV/AIDS in Louisville and beyond.
Teresa Gordon was one such person. When House of Ruth was incorporated in August of 1992, our original mission was to help women with AIDS make funeral and childcare arrangements before their death.
Teresa was one of House of Ruth's first clients. Teresa was a Louisville native who contracted HIV from her husband, Keith, in the late 1980s. Teresa gave birth to their daughter, Courtney (who was born with the disease) in 1989. Keith passed away in 1990 at age 29, and Courtney passed away in 1991 at age 23 months.
With four older children, Teresa turned to House of Ruth to help her plan for her family after her death, and for support in a unique and challenging situation. Through the loss of Keith and Courtney, Teresa's ongoing illness, and denigration from the community, Teresa and her family suffered immensely. One article featuring Teresa mentioned that "Since being labeled as an AIDS family, vandals have egged Mrs. Gordon's house and have broken windows and her son has been beaten."
At House of Ruth, Teresa was able to secure myriad support services: everything from emergency financial assistance to counseling. Perhaps most importantly, at House of Ruth, Teresa found an accepting and non-judgmental atmosphere — and perhaps this helped drive Teresa to speak up, as she went on to be nationally recognized for her work as an AIDS advocate.
At the time, HIV/AIDS was stereotyped as a disease of homosexuality, but even more so, it was stereotyped as a disease of promiscuity. A woman contracting AIDS from her husband was unexpected, and Teresa's unashamed and compassionate approach was disarming. She became an AIDS speaker and lecturer, educating thousands across the state by speaking at churches, schools, and civic organizations. For a time she acted as president of the Kentuckiana Peoples With AIDS Coalition. Teresa was a resource for other HIV/AIDS positive people, answering questions and welcoming other infected people into her home. Teresa even served on House of Ruth's Board of Directors!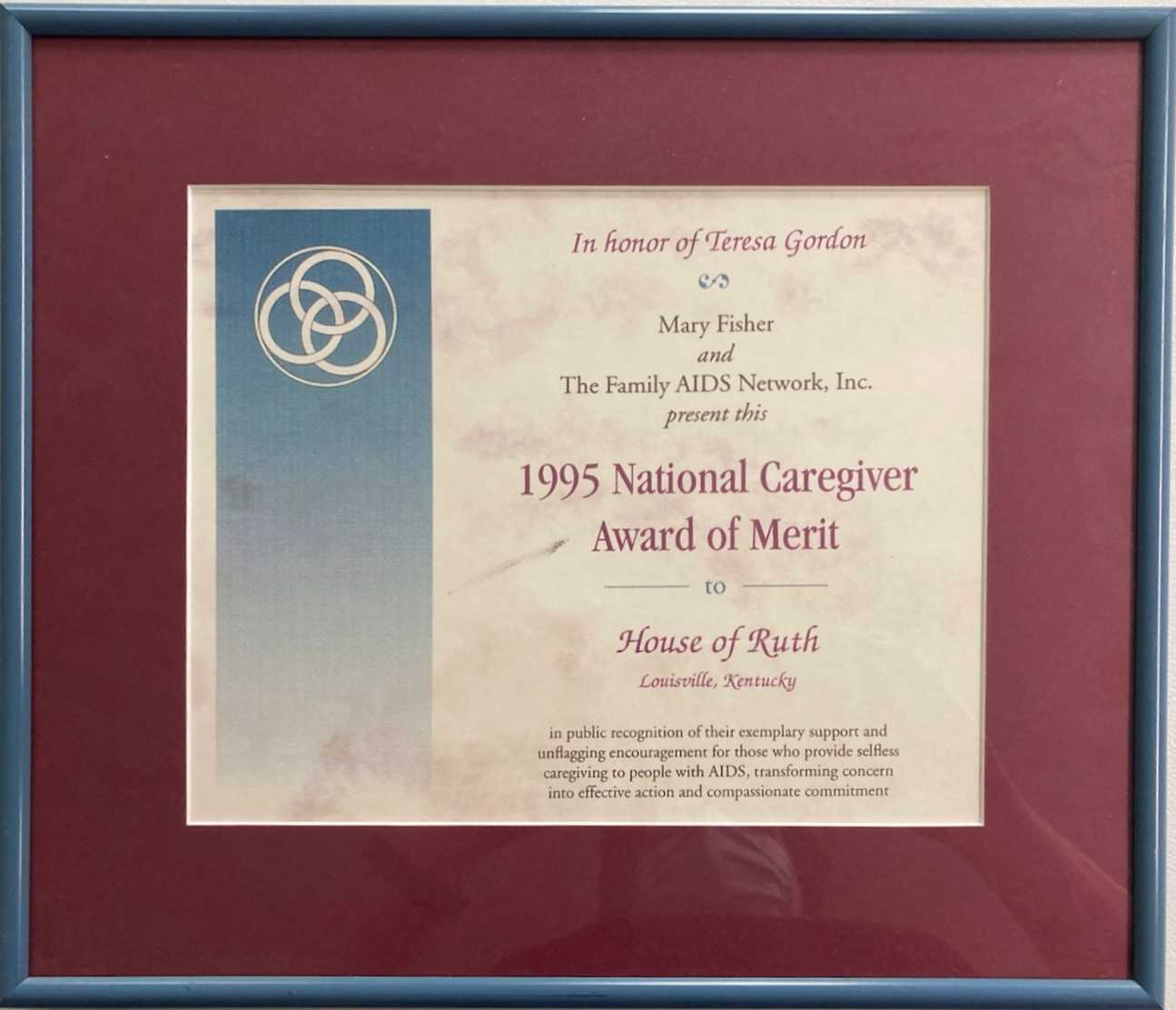 Teresa's advocacy work led to national recognition. In 1995, Teresa was honored with a Family AIDS Network Award of Merit. This award recognized 63 people nationwide for providing exemplary caregiving to people with AIDS. That same year, she was one of three women recognized with the first Temple Shalom Tikkun Olam Award, referring to the Jewish concept of tikkun olam, meaning repair of the world. In 1996, Teresa, as well as her son and daughter, were featured on the Oprah Winfrey Show in an episode about showing compassion to people with AIDS.
In the years following Teresa's diagnosis, she showed tremendous strength of character and energy even in the face of her disease. She educated thousands on the reality of AIDS, touched the hearts of people from all walks of life, and spoke out bravely against discrimination — but those who knew her remember her as so much more.
When Teresa was diagnosed in the early 90s, the doctors gave her six months to live. She passed away in 2002 at the age of 44. Her obituary in the Courier-Journal included a quotation from House of Ruth founder Sharon Cook: "Teresa was not her illness. Teresa was Teresa, a loving, giving person who had an illness. And she treated it that way. It was not the center of her life. When faced with a great tragedy in your own life, you can turn inward or you can turn outward. And she is definitely a person who turned outward and gave everything she had."